In the above photo, the back two rows of seats are filled with backpacks before the big event for back2school.
Members of Broad Street Christian Church serve within the community through ecumenical efforts with other congregations across denominational lines.  In the photo below, volunteers line up to fill backpacks to be distributed in the 'back2school' project.  Twenty-eight churches in Martinsville, Henry County, Patrick County and one congregation in West Virginia teamed up to provide backpacks, socks, shoes, a book and a free meal for 2,161 students.  Broad Street was part of a partnership of nine Uptown Martinsville churches that through the efforts of over 50 volunteers served 120 students at the First Presbyterian Church location.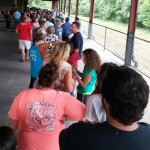 Members of Broad Street also provide free community meals on the third Tuesday during the summer months – serving on average between 70 and 80 individuals.